a matchmaking experiment based on scent
watch a party in

Guests sleep in a tshirt for 3 nights to capture their odor print and bring it in a ziplock bag to the party. White, clean and cotton are best - but this is a party, not a lab, so do what you can.
Bags are labeled pink for girl, blue for boy. Each bag is assigned a number. Only the guest knows what their shirt's number is.
Bags are placed on a table. Guests smell the bags at their leisure throughout the party.
If a guest finds the smell attractive, they take a picture with the bag at a photographer station. These pictures are projected as a slide show on the wall at the party.
If you see a picture of a guest you find attractive holding your number, this is the greenlight to talk to them. Haaaay.
At the end of the party, a facebook album is created and all of the pictures are tagged - so if you missed your match at the party, you can still contact them.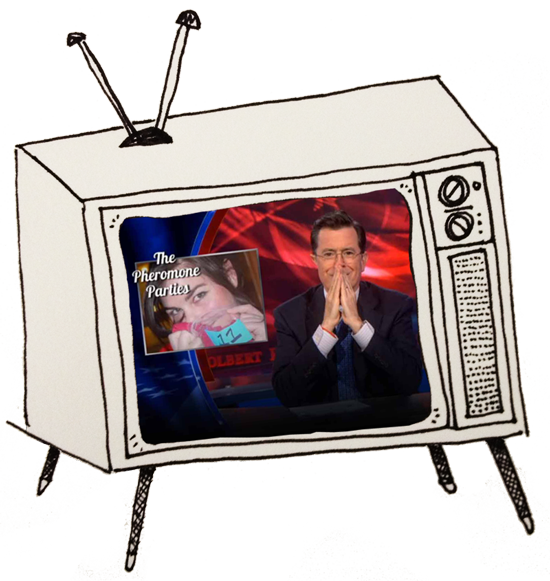 London, UK

Tuesday, 9 December 2014
Where did the idea come from?

Artist Judith Prays finally admitted to herself that online dating wasn't working for her. Witty, self aware writers didn't seem to equate to great, lasting relationships. Through experimenting she ended up on a date with someone who wouldn't ordinarily have made the cut online but IRL was a complete success. The mystery of how gaps in conversation could be trumped by olfactory delight, and the long term relationship that ensued, made her wonder - should we be dating based on smell?

When did this start and how did it get to where it is today?

Judith had the idea in summer 2009 and the first event was in Brooklyn in November 2010 in the Mr UX studio. After an article about the event went viral, the second event was in LA at Cinefamily coproduced by Mastadon Mesa. Scientific advisor, Charles J. Wysocki, helped verify and streamline the pheromone print process and now the events are taking place globally.

Wait, so what's a pheromone?

Pheromones are the chemical triggers of sexual attraction in mammals. Pheromones determine fecundity; if you are attracted to someone's pheromones it is an indicator that you two will have healthy grandchildren. While not confirmed, it is suspected that males smell availability and females smell genetic quality.

Are the parties successful?

The party is primarily successful in that it opens up interesting, intimate conversations and breaks down barriers to make strangers comfortable chatting. There is definite truth in the science of it, in the connection between smell and physical attraction, but we've had multiple people meet at the parties just by being at the smelling table at the same time. At the end of the day the point is to throw an engaging, fresh event and in that's it definitely hits the mark.

When will it come to my city?

All upcoming events are listed in the calendar section. If you don't see your city there, you can sign up for the mailing list or stay tuned on facebook. If you are interested in sponsoring or hosting an event, please contact info@pheromoneparties.com.

info@pheromoneparties.com